When things get busy during the year, it can be easy to overlook what a fantastic job your child's teacher is doing. Teachers put in much more time and effort than we might realize, often going above and beyond in order to give our kids a great education, so the end of the school year is a fantastic time to recognise this.
Help your child to honor their teacher with this fantastic list of simple, inexpensive gifts which are suitable for both male and female teachers. Some of these gifts can be made with a few simple materials which you may even find around the house, some require a small purchase and others simply require your time.
No matter which gift you choose, we are certain your child's teacher will appreciate the time you took to say 'thanks!'
1. A Smooth Year
Quick and easy, this small gift is the perfect last minute gift to show appreciation for your teacher! Simply purchase a nice, fragrance appropriate hand cream or body lotion and print off a simple tag with the saying "hope you have a smooth year!"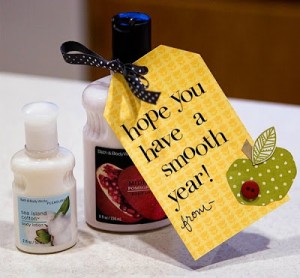 For more instructions, go HERE
2. Color My World
Easy and inexpensive, this sharpie gift is both practical and fun! Teachers love when they are given gifts of stationary supplies that they would otherwise have to purchase so this small but cute gift will go down a treat. Have you child grab a pack of sharpies and a piece of paper and let them tell their teacher how much 'color they bring' to the world, or how 'sharp' they are!
If your child has more than one teacher that they want to give an appreciation gift to, you can buy a larger pack of sharpies and divide it up – it couldn't be simpler!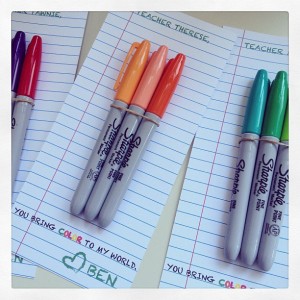 For more instructions, go HERE
3. Candy Collage
This collage is super fun to make and will bring a smile to any teacher's face! Grab a range of candy bars which have words that you can incorporate into a story or a series of messages and glue them onto a large piece of paper. After the teacher has enjoyed it on the wall, he or she can raid it for snacks!
This collage is also fantastic for encouraging your children to put words into context and be creative!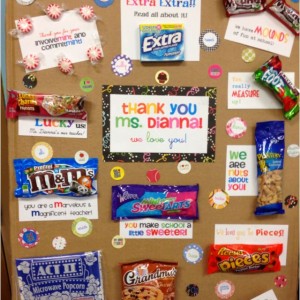 4.  Crayon Wreath
Beautiful as a classroom decoration, this crayon wreath is the perfect gift for a teacher of any age classroom. Simply purchase a packet of dollar store crayons and a basic wreath (or you can fashion one yourself out of paper mache or a pool noodle) and stick the crayons on the wreath at even intervals. To add an extra touch be sure to add a nice sign with your teacher's name on it.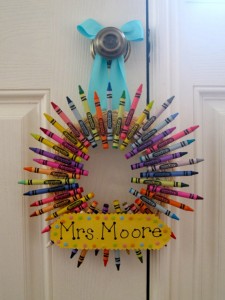 For more instructions, go HERE
5. Nuts About Teachers
This one is super simple and can be picked up while you shop for your usual groceries. Simply have your kids draw or print a super cute sign about how 'nuts' they are about their teacher and attach it to a snack size bag of peanuts or other nut. These nuts will make the perfect morning tea for the teacher!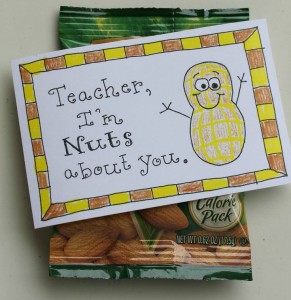 For more instructions, go HERE
6. Orange You Glad?
With colds and flu's rife in schools, teachers sure need their vitamin C! Make sure they get it with this fun and healthy gift that will brighten up their day! Simply bag up some oranges with a bright colored ribbon and print or draw a sign that reads "Orange you glad" it's the holidays, the weekend (or whatever message you choose). Kids will love putting it together and teachers will love receiving it.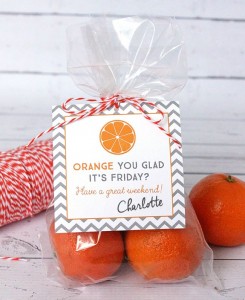 For more instructions, go HERE
7. Beary Thankful
Adorable and tasty, you can't lose with this super cute and easy gift. Simply package up some gummy bears and attach a card telling the teacher how 'bear-y thankful' your child is to have them as a teacher. Just make sure all the gummy bears end up in the bag bound for the teacher!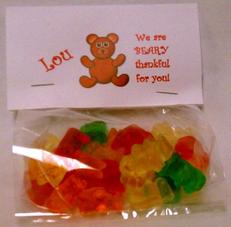 For more instructions, go HERE
8. So Fortunate
No matter how old you are, cracking open a fortune cookie never stops being fun. Fortune cookies are super easy to find in stores so grab a box and attach a tag telling your child's teacher how fortunate your child is to have them. This is one of the cheapest gift ideas and is a great idea if you need to give a gift to multiple teachers.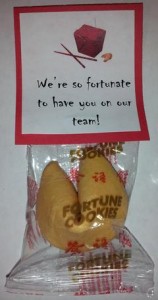 For more instructions, go HERE
9. Fingerprint Tree
If you want your teacher appreciation gift to be super personal and almost free, then get this great printable and have your child or children place their fingerprints on it for the tree leaves. Your teacher will treasure the time and effort your children put into creating this beautiful piece of artwork, just for them.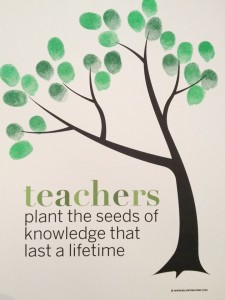 For more instructions, go HERE
10. Pencil, Pencil Holder
Yes, you read that one correctly! This pencil holder is quite literally…made from pencils! Cute and easy to make, your teacher will love how themed this pencil holder is and will give it pride of place on his or her desk.  Simply hot glue plain HB pencils around a clean, old aluminium food can and secure with a ribbon. If you want to go the extra mile, you can even fill the pencil tin with pens and pencils for your teacher to use, or fill with confectionery for those must-have-sugar moments!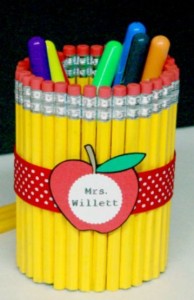 For more instructions, go HERE