Make sure to order shirts to celebrate School Lunch Heroes by April 12! School Lunch Hero Day (May 4) showcases the difference school nutrition professionals make for every child who comes through the cafeteria. It's a great time to say thank you to those hard-working professionals who provide food education and experiences in your school.
When she left her hometown of Somerset, Kentucky, in 1998 to get her degree, School Lunch Hero Allison Sobieck always thought she would have a job offering five-star dining experiences.
After earning an associate's in culinary arts and a bachelor's in business with an emphasis on hospitality management from Sullivan University, Allison and her husband, Chuck, returned to Somerset to bring everything they learned to their community. They started construction on the Doolin House Inn bed and breakfast in 2003 and launched 2Chefs Catering, plating beautiful meals and introducing new food culture to downtown Somerset. (Photo above by KSD: Chuck and Allison Sobieck in their kitchen at the Doolin House Inn in Somerset, where they also operated 2Chefs Catering.)
But everything changed as their family grew, and Allison and Chuck made a decision when they learned they were having their third child to disband their catering business and sell the inn. When one of Allison's former employees started managing the lunchroom at Somerset Christian School (where the Sobiecks' children attend) and needed someone to assist, Allison jumped right in — and has not regretted the move.
Though the audience is different (SCS prepares meals for 150-200 students per day), the food experience she works to create for students is still five-star — and the reward much greater.
"I love, love, love my job," Allison said. "Every day I feel as if I am doing the most worthwhile cooking job I could possibly be doing."
We asked Allison to share her appreciation for food education and some of her experiences as a School Lunch Hero:
Q: Why did you choose this career path? What about culinary arts is special or rewarding to you?
A: I chose culinary arts because I have a great love of food, and honestly, a not-so-great love of sitting in a classroom. I loved running around a restaurant, but I always had a lazy bone when it came to studying. I was always a creative, artsy kid. Food opens the doors of the world and culture to a person. If you have an adventurous palate, you can travel the world without leaving home. Working with students is so rewarding. I get nearly giddy when I see a child try a new food and like it. It's stunning to me how little "real" food kids have eaten!
Q: How long have you been working in the SCS cafeteria? How did you get started there? Describe your position and responsibilities (for example, if you're involved in creating menus, management, etc.).
I started working in the SCS kitchen in October 2016. Our children have gone to school there since preschool, so I have always been around. When I became pregnant with our third child and disbanded the Doolin House/2Chefs crew, one of my former employees (and SCS graduate) went on to run the kitchen at SCS. When her assistant quit, I jumped in to the position and the rest is history. She's like a younger sister to me. She's self taught and quite young, but very talented. And she does the hard part, which is staying under budget! For the day-to-day, we do what needs done at the time (there is more of an "order of operations" in our kitchen than there are specific duties). And though I am simply an employee (not management), I definitely help make the menus. That's the fun part!
Q: What is the most unique/memorable meal you've prepared for students/staff while you've been at SCS?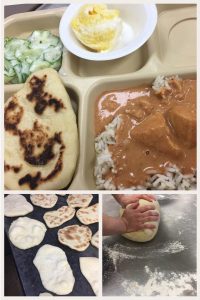 Being a Christian school, we have one school week per year dedicated to missions, both at home and around the world. We prepare international foods from places our missionaries live and serve. We have prepared meals from the Philippines, China, Africa, the Middle East, etc. The students get a lot of exposure to different foods. We recently prepared a "Taste of the USA" menu, where students were treated to Kentucky Hot Browns, Georgia Peach Pie — it was a huge hit! In two weeks we are preparing a food "tour" of Western Europe. We will serve Greek, French, Italian, German and Spanish cuisines. I'll make my Italian grandmother's homemade marinara for the chicken Parmesan.
Q: Why is food education important? What do you hope to teach students through your work in the cafeteria?
A: I think food is truly the cheapest way to educate yourself. Especially now, with our opportunity to locally purchase particular cuts of meat or exotic spices at our local grocery chain. I believe if you are a good eater and have learned social graces, no matter what your education level, you can sit with the Queen of England at dinner. It really opens the door to a whole new world. I hope that students will learn a couple of things from what we do: I hope they will learn to try a bite of something new and different, and I want them to know there is a big, delicious world outside of chicken nuggets and hot dogs!
Q: What's the most challenging part about your job as a cafeteria team member? The most fun part?
A: The most challenging part is there are just two of us at any given time working. That keeps us hopping! And the most fun part is when we get to rock out awesome food and the kids get excited about eating it. We love it when they come in hungry and excited for what we've cooked.
Q: Tell us about an experience you've had at SCS that you'll never forget.
A: We have loaded baked potato day every once in a while for the kids. They are giant potatoes, and we let the kids fill them with butter, cheddar, sour cream and real bacon. One of our little guys had never had a baked potato before. We talked him into trying it several times last year and by May, he was eating all the "guts" out and rolling up the skin and finishing it too! He was the cutest little guy! And it made my day to see a student enjoy something as simple as a potato.